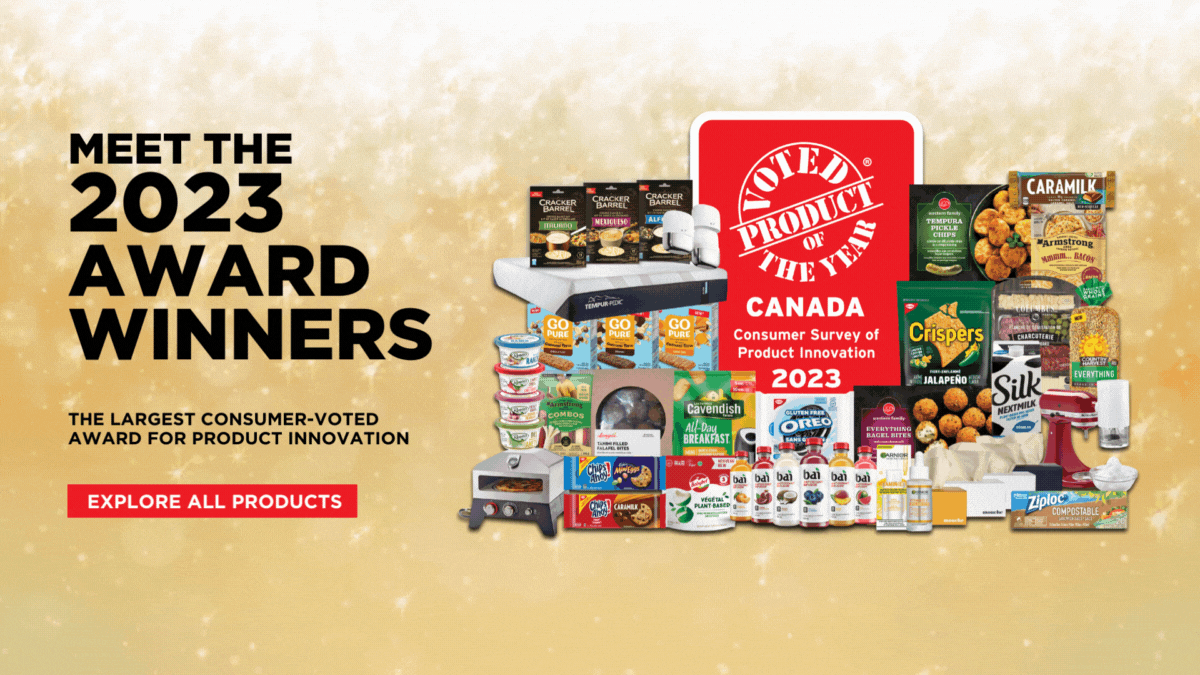 16 Feb

Product of the Year Canada Announces 2023 Award Winners

The Largest Consumer Survey of Product Innovation Reveals Winners in 25 Categories

TORONTO, February 16, 2023 – Product of the Year Canada, the largest consumer-voted award for product innovation, is proud to announce the highly anticipated winners of the 2023 Product of the Year Awards. With winners across 25 distinct categories, the products are awarded Product of the Year for outstanding innovation through a national survey of 4,000 Canadian shoppers conducted by Kantar, a global leader in consumer research.

"Product of the Year is more valuable now than ever. The level of access consumers have to products today is unprecedented – far beyond retail aisles, they have DTC options, grocery delivery in the palm of their hands, and they can watch their favorite influencer review items they're considering purchasing in real time," notes Mike Nolan, Global CEO of Product of the Year Management. "Product of the Year is an established and increasingly relevant resource for CPG companies, helping their products stand out while showcasing their exceptional quality and innovation. The 2023 award winners further demonstrate the ever-evolving trends we are seeing in the Canadian market and as a company we're thrilled to be at the forefront of recognizing these products for top performing function, design, packaging, or ingredients."

With the distinctive Product of the Year red seal that is globally recognized as the vote of confidence from consumers themselves, shoppers can easily cut through the clutter and trust that these products demonstrate the utmost innovation in their respective categories.

From sustainability, personal care, household essentials to the latest food and beverage options and beyond, the winners of the 2023 Product of the Year Canada Award include:

● Appetizers | Columbus Charcuterie Tasting Board – Hormel Canada
● Appliances | Vida by PADERNO 12" Outdoor Gas Pizza Oven – Canadian Tire
● Beauty | Garnier Vitamin C Brightening Serum – L'Oréal Canada
● Better For You Snacks | Go Pure Soft Baked Oatmeal Bars – Biscuits Leclerc
● Bread | Country Harvest Everything Bread – Wonderbrands
● Breakfast Foods | All-Day Breakfast Mini Quick Cook Hash Brown Patties – Cavendish Farms
● Cheese | Armstrong Cheese Mmmm….Bacon Natural Shredded Cheese – Saputo Dairy Products Canada
● Cheese Snacks | Armstrong Cheese Combos – Saputo Dairy Products Canada
● Chocolate | Caramilk Salted Caramel – Mondelēz Canada
● Crispy Appetizers | Western Family Tempura Fried Pickle Chips – Pattison Food Group
● Dips | Renée's Dips – The Kraft Heinz Company
● Enhanced Water | Bai Antioxidant Infusion® – Keurig Dr Pepper Canada
● Frozen Appetizers – Cheese Bites | Western Family Everything Bagel Bites – Pattison Food Group
● Gluten-Free | Oreo Gluten Free – Mondelēz Canada
● Household Paper Product | Mouche Bamboo Facial Tissues – Mouche Inc.
● Kitchenware & Cookware | KitchenAid Shave Ice Attachment for Stand Mixers – Whirlpool Canada
● Mattress | TEMPUR-Align® Medium Mattress – Tempur-Pedic
● Personal Care & Wellness | Dove Refillable Deodorant – Unilever
● Plant-based Beverage | Silk Nextmilk – Danone Canada
● Plant-based Cheese | Babybel® Plant-based – Fromageries Bel Canada
● Prepared Foods | Longo's Tahini Filled Falafel Bites – Longo Brothers Fruit Market
● Snacking Crackers | Crispers Fiery Jalapeño – Mondelēz Canada
● Snacks | Chips Ahoy! Mashup – Mondelēz Canada
● Soups & Sauces | Cracker Barrel Cheese Sauce Kit – Lactalis Canada
● Sustainable Product | Ziploc® Compostable Sandwich Bags – SC Johnson

The 2023 Product of the Year Canada winners will be highlighted nationally in a segment of The Morning Show on Global, on February 21 at 9:00 a.m., hosted by Carolyn MacKenzie and Jeff McArthur. In addition, the 2023 winners will be featured in a video pre-roll to run on GlobalTV app and ConnectedTV, across targeted content from some of Corus premium brands, such as Global Television, W Network, HGTV Canada, Food Network Canada, and Slice. Winning products will be part of a brand new campaign on Flipp,the one-stop marketplace for everyday savings and deals, and Elle Canada, the renowned fashion and lifestyle brand. Winners also receives premium coverage from EnsembleIQ, a premier business intelligence resource with revered publications, including Canadian Grocer and Convenience Store News Canada.

For additional information about the 2023 Product of the Year Canada winners, visit productoftheyear.ca and follow along on social media with #POYCanada2023 on Instagram, TikTok, Facebook, LinkedIn and Twitter.

About Product of the Year:

Product of the Year is the largest consumer-voted award for product innovation. Established 35 years ago, POY currently operates in over 45 countries with the same purpose: guide consumers to the best products in their market and reward manufacturers for quality and innovation. Product of the Year winners are backed by the votes of 4,000 consumers in a national representative study conducted by research partner Kantar, a global leader in consumer research. The award is a powerful merchandising program for marketers proven to increase product sales, distribution, and awareness. Winning products announced in February of each year are included in Product of the Year's national marketing program and receive the right to use the Product of the Year honor and logo in their own marketing and sales communications for two years. For more information, visit productoftheyear.ca.

About Kantar:

Kantar is the world's leading marketing data, insight, and consultancy company. We know more about how people live, feel, shop, vote, watch and post worldwide than any other company. Working across the entire sales and marketing lifecycle, we help brands uncover growth in an extraordinary world. Kantar is part of WPP and its services are employed by over half of the Fortune 500 companies in 100 countries.