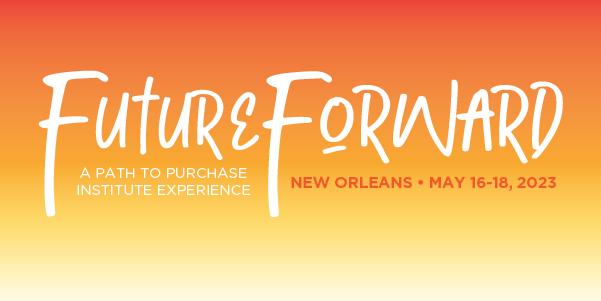 20 Mar
EnsembleIQ Path to Purchase Institute's Future Forward
Conference Brings Together Consumer Product Marketers and Retail Leaders to Demystify New Consumer and Commerce Trends
Event Will Unveil New Research on Shopper Behavior and Factors Influencing In-Store Experience
CHICAGO, March 20, 2023 – EnsembleIQ today announces the Path to Purchase Institute's Future Forward conference will take place May 16-18 in New Orleans. The conference will bring together consumer product marketers and retail leaders from every point along the path to purchase to demystify the new consumer, share shopper behavior and trend forecasting insights, and explore the future of commerce via in-store experience, social, the metaverse and beyond. Register here.
"Shopper behavior is evolving at a dizzying pace. Future Forward will focus on understanding why consumers shop, and the implications of their changing behaviors on brands and businesses," said Eric Savitch, Vice President and Brand Director, the Path to Purchase Institute. "We're excited to bring together a think tank of leading industry executives to help attendees succeed in the next generation of commerce."
During the conference, Patrycja Malinowska, the Path to Purchase Institute's Director of Member Content, will unveil proprietary research focused on in-store experience and the current shopping habits of consumers with Dan Sabanosh, Director of Shopper Marketing, Great Northern Instore. The "Examining the In-Store Shopping Experience" session will offer insights into shopping patterns, new areas of opportunity, and the trends and topics on consumers' minds that could influence future behaviors.
Additional thought leaders participating in the conference will include:

Sean Monahan, Founder, 8Ball
Ari Peralta, Neuroscientist & Sensory Designer, Arigami
Joseph Vizcarra, Group Vice President, Customer Marketing, The Coca-Cola Company
Melissa Gonzalez, Principal/Founder, MG2/The Lionesque Group
April Carlisle, EVP, Commerce, Spark Foundry
Brad Christian, Senior Vice President, Strategic Growth, US Channel Performance, IPSOS
Brendan Light, Senior Vice President, Retail & Shopper Insights Practice, IPSOS USA
Amanda Wolff, Chief Marketing Officer, Flywheel Digital
Michelle Baumann, Chief Strategy Officer, VMLY&R Commerce
McDonald Predelus, VP Creative Director of Web3, VMLY&R Commerce
Graham Hogg, Co-Founder & CEO, see6
During the event, the Path to Purchase Institute also will celebrate the industry's next generation of leaders in a "40 Under 40" awards ceremony. Meet them here.
In addition, Mimi Dixon of Crayola, Brent Rosso of Ulta Beauty, and Bob Waibel of Conagra Brands will be inducted into the Path to Purchase Institute's Hall of Fame, which has been honoring the icons of the path to purchase industry since 1994.
Solution providers are encouraged to seek Future Forward sponsorship opportunities here.
To register to attend the Path to Purchase Institute's Forward Future, click here.
Stay connected to the Path to Purchase Institute's Forward Future on LinkedIn, Facebook, Twitter and Instagram with #FutureForward.
About the Path to Purchase Institute
The Path to Purchase Institute is a global member community serving the needs of brand manufacturers, retailers, agencies and the entire ecosystem of solution providers in the commerce marketing industry.
About EnsembleIQ
EnsembleIQ is the premier resource of actionable insights and connections powering business growth throughout the path to purchase. We help retail, technology, consumer goods, healthcare and hospitality professionals make informed decisions and gain a competitive advantage. EnsembleIQ delivers the most trusted business intelligence from leading industry experts, creative marketing solutions and impactful event experiences that connect best-in-class suppliers and service providers with our vibrant business-building communities. To learn more about EnsembleIQ, visit ensembleiq.com.
Media Contact
Joe Territo
Executive Vice President, Content and Communications
EnsembleIQ
[email protected]