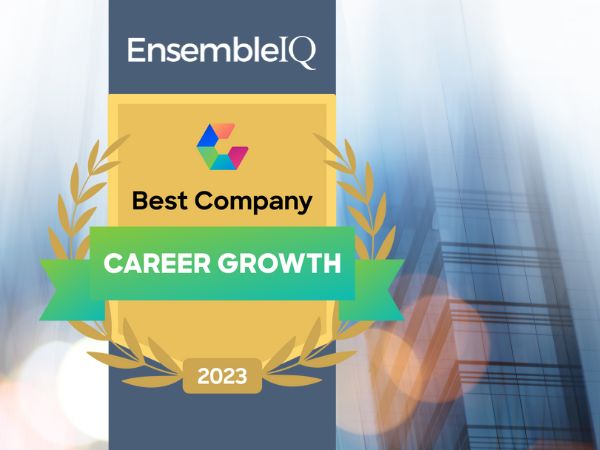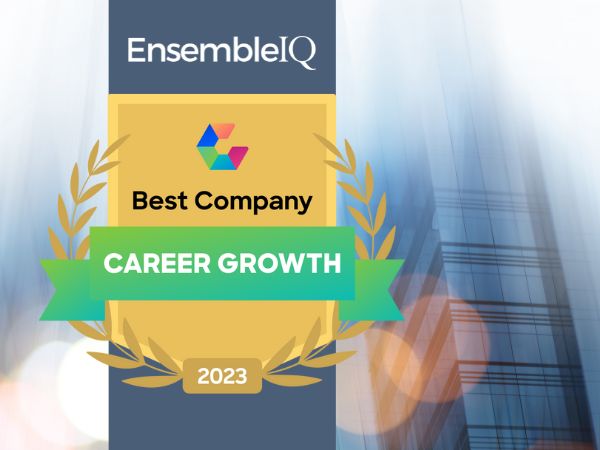 20 Jun

EnsembleIQ Recognized as a Top Workplace for Career Growth
Positive Culture Creates an Environment for Employee Professional Development
CHICAGO, June 20, 2023 – EnsembleIQ, North America's leading source of insightful information and actionable connections in retail, healthcare and hospitality, has been recognized by workplace evaluation firm Comparably in its "Best Companies for Career Growth" category for outstanding career growth opportunities.
This prestigious honor is based on ratings voluntarily and anonymously submitted to Comparably by EnsembleIQ employees between May 2022 and May 2023 about how they feel about the company's professional development opportunities in areas including meaningful career advancement, mentorship, challenging work, and frequency of valuable feedback from direct managers on how to improve.
"Our employees are the lifeblood of our company. As our most valuable asset, we are committed to investing in their careers. We believe in creating a positive culture that encourages, supports and celebrates our employees. Promoting from within boosts morale, energizes employees and enhances our organizational intelligence–improving our performance," said EnsembleIQ Chief Executive Officer Jennifer Litterick. "We are proud to be recognized by Comparably as a top company for career growth."
Previously, EnsembleIQ was honored by Comparably as a Best Place to Work in Chicago, where the company is headquartered in the United States, and in the Best Leadership Teams category, for driving positive culture change. In addition, in Canada, EnsembleIQ is featured in The Career Directory 2023, which tells recent graduates that EnsembleIQ is a great place to start their careers.
To learn more about EnsembleIQ, click here, and view open positions at EnsembleIQ here.
About Comparably
Comparably, now a ZoomInfo company, is a leading workplace culture and corporate brand reputation platform with more than 20 million anonymous employee ratings of 70,000 companies. With the most comprehensive data on large and SMB organizations in nearly 20 different workplace categories–based on gender, ethnicity, age, experience, industry, location, and education–it's one of the most used SaaS platforms for employer branding, and a trusted third-party site for workplace culture and compensation. For more information on Comparably and its Best Places to Work Awards, visit www.comparably.com.
About EnsembleIQ
EnsembleIQ is the premier resource of actionable insights and connections powering business growth throughout the path to purchase. We help retail, technology, consumer goods, healthcare and hospitality professionals make informed decisions and gain a competitive advantage. EnsembleIQ delivers the most trusted business intelligence from leading industry experts, creative marketing solutions and impactful event experiences that connect best-in-class suppliers and service providers with our vibrant business-building communities. To learn more about EnsembleIQ, visit ensembleiq.com.
Media Contact
Joe Territo
Chief Strategy Officer
EnsembleIQ
[email protected]